We provide Information Technology consultancy services to small business within the Northern Beaches area. We design and recommend the right technology solution aligned with the business goals, functions, requirements and budget. The solutions include networks, printing, data storage and sharing, private clouds, mobile platforms, computer hardware and software systems, cloud backup systems, data protection, security, and disaster recovery.
We also provide installation, configuration, management, maintenance and decommissioning service, ad-hoc or on the regular basis. We partner with industry leaders to provide enterprise-grade services to small businesses.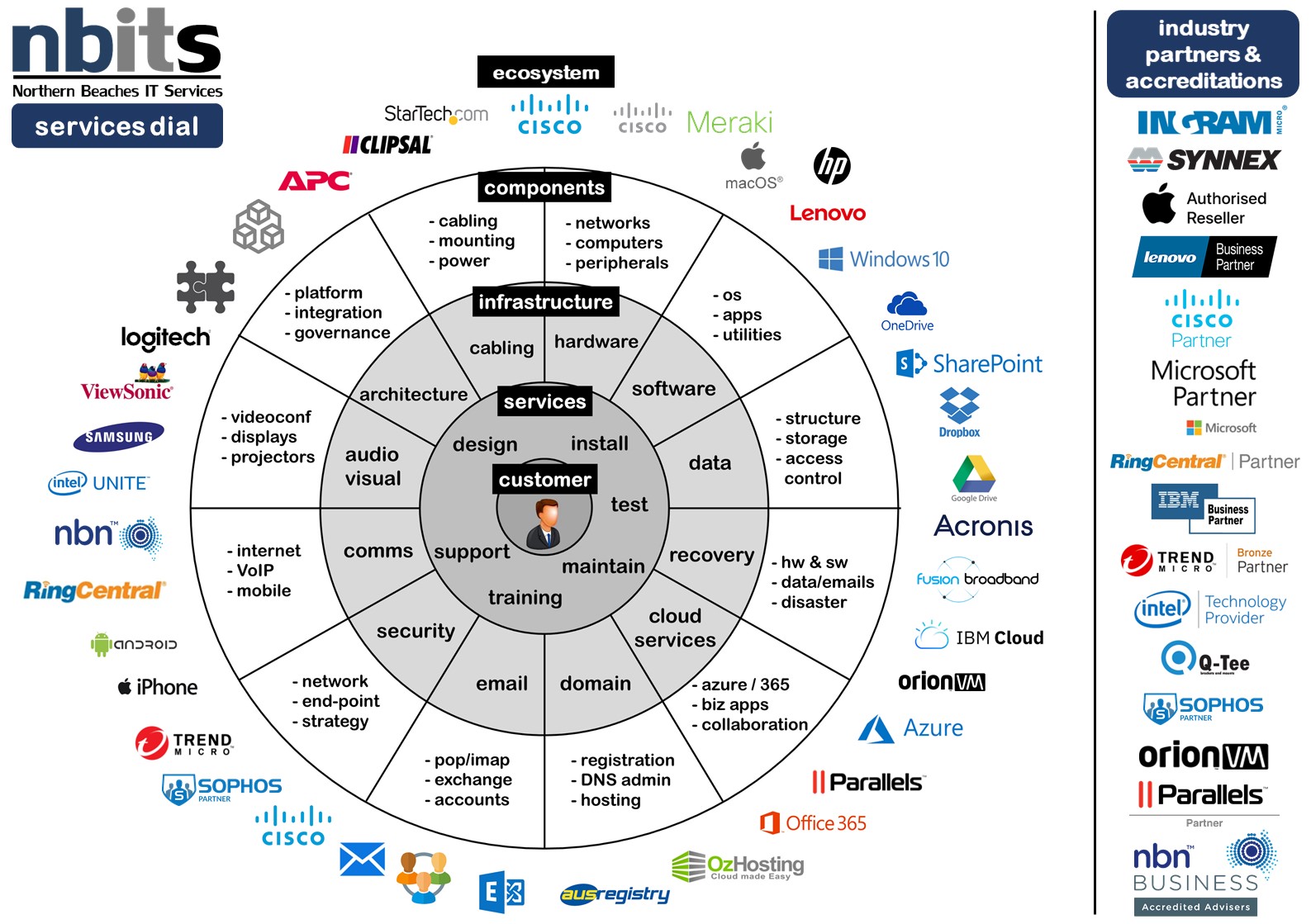 In 2018 NBITS became "nbn accredited adviser" – read case sutdy published by nbn here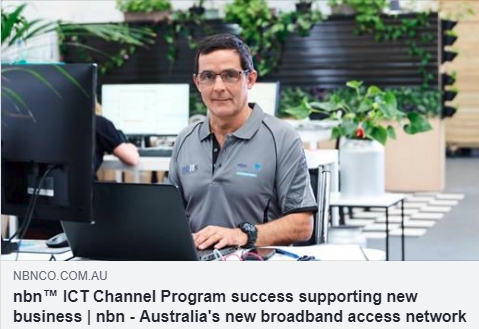 Our Methodology
NBITS developed a set of tools and services to assist with the design and deployment of the entire Information Technology (IT) infrastructure required for a new field office.
The objective is to provide a step by step workflow to guide the entire process to ensure the deployment of the appropriate secured and robust platform to run the business effectively. NBITS will execute as prescribed within the workflow initiating the process with an interview with the new Office Manager to kick-start infrastructure design.
NBITS is committed to design, procure, install and support the entire IT infrastructure, including Internet access, wired and wireless network, central storage and servers, users' workstations computers, printers/scanners, fax and telephone systems (virtual PBX). Also- the design of the data architecture; backup systems and disaster prevention and recovery systems; and the end-to-end security plan.
The Information Technology Infrastructure Deployment Workflow (ITIDW) contains 6 distinct phases as illustrated below:

The workflow starts with an in-depth assessment to capture all the information including business and operations requirements. NBITS will also perform a site survey to review the physical location in order to design the right set of services, architecture and network topology for the new office. Once all the information has been captured, NBITS' team will initiate the order for the Internet service and phone system and will initiate the infrastructure design and continue the workflow all the way to the post-implementation review and follow-up hand by hand with the office management and staff. The following section will provide a description of each of the phases.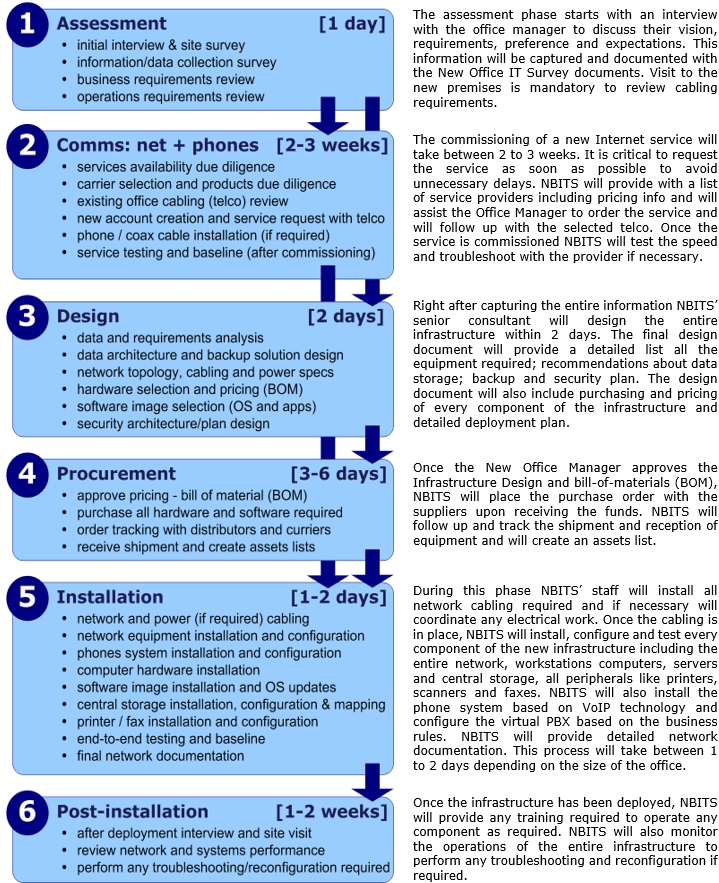 Our Clients
Advance Water Systems (Cromer) – http://advancedwater.com.au
Anti Lice Angel (Collaroy) – http://antiliceangel.com.au
Art Hub Manly (Manly) – http://arthubmanly.com.au
Arrow Shipbrokers (Manly) – http://arrowship.com
Astute Financial Management (Dee Why) – http://astutefinancial.com.au
BAH-BQ (Crowsnest) – http://bahbq.com.au
Beaches Pizza Bar (Manly) – http://beachespizzabar.com
Ciao Ciao Pizza (Crosnest) – http://ciaociaopizza.com.au
Harcourts Beaches (Collaroy) – http://harcourtsbeaches.com.au
Harcourts Dee Why (Dee Why) – http://deewhy.harcourts.com.au
Harcourts Forest Group (Frenchs Forest) – http://harcourtsforestgroup.com.au
Harcourts Brindabella (Mitchell, ACT)- http://brindabella.harcourts.com.au
Harcourts Amaroo (Amaroo, ACT) – http://harcourts.com.au/Property/Residential/All/Amaroo
I Love Pizza (Balgowlah) – http://i-love-pizza.com.au
Independent Living Specialist (ILS) (Lane Cove) – http://ilsau.com.au
Malkonya Hair Group (Zetland) – http://malkonyan.com.au
Mindquest Global (Manly) – http://mindquestglobal.com
Property Development Corporation (PDC) (Mosman)
RSPCA NSW (Yagoona) – http://rspcansw.org.au
Simply Connect (Brookvale) – http://simplyconnect.com.au
Solid Ground Landscaping (Cromer) – http://solidgroundlandscaping.com.au
The Art of Furniture – http://taofurniture.com.au
B-SIDE Creative Space (Brookevale) – http://www.bsidecreativespace.com
Storepro Sydney (Brookevale) – http://storepro.com.au
Ray White Collaroy (Collaroy) – http://raywhitecollaroy.com.au
Composite Creations (Warriwood) – http://www.compositecreations.net
Core Electrical Services (Brookvale) – http://core-electrical-services.com.au
Wannabees Family Play Town (Frenchs Forest) – http://wannabees.com.au
Redemptorist Community (Kogarah) – http://www.cssr.org.au
EQ Projects (Hurstville) – http://eqprojects.com.au
Our Business Partners
Apple – https://www.apple.com
Microsoft – https://www.microsoft.com
Trend Micro – https://www.trendmicro.com
Cisco – https://www.cisco.com
Lenovo – https://www.lenovo.com
Intel – https://www.intel.com
Ingram Micro – https://www.ingrammicro.com.au
Synnex – https://www.synnex.com.au
Quantum Sphere – https://qsphere.com.au
Ring Central – https://www.ringcentral.com
OrionVM – https://www.orionvm.com
Fusion Broadband – https://www.fusionbroadband.com.au
OzHosting – https://www.ozhosting.com.au
Our Founder
Leo Iribarren (leo@nbits.net.au)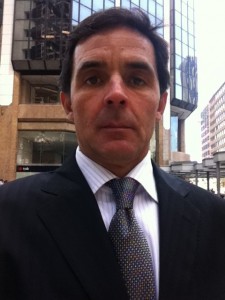 MD and Principal Consultant
Leo holds and B.S. in Computer Science and a Master of Business in Information Technology Management, with over 20 years experience in designing solutions and delivering complex projects.
He has experience across industries and with a broad range of technologies. Adopting a consultative and inclusive approach, Leo will analyse and understand the business problems to find the technological solution that meets requirements and he will ensure that complex projects are delivered on budget and on time
Experience in multiple roles from Network Engineer, System Administrator, Business Development, Risk Assessment, Project Management, Consultant, Solutions Development, Enterprise Architect and Solutions Architect.
Leo lives in the Northern Beaches with his wife and two sons. It is passionate about using the right technology to solve business problems and gain competitive advantage. He is also a long time surfer and mountain bike rider.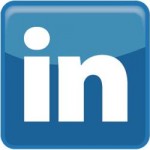 Please visit his professional profile on Linkedin for more information on his working experience.
Professional Qualifications/ Development
Master of Business in Information Technology Management – University of Technology Sydney, Australia – Nov. 2000

Bachelor of Science in Computer Science – Nueva Esparta University, Venezuela – September 1991
Intel Australia | November 2000 to August 2012
Sr. Solutions Architect – Digital Economy Enablement

Delivery Manager & Technical Marketing Engineer (TME) – Customer technical Operations, Digital Health Group

Senior Solutions Architect (TSS DC), Worldwide – Data Center Solutions, Technical Solutions Sales

Regional Senior Solutions Architect (APAC TSS), Asia Pacific – SMG and Digital Health Group

Senior Enterprise Architect (SDI/ISS), Worldwide – Solutions Development, Intel Solution Services

Senior Consultant and Practice Leader, Australia & New Zealand – Intel Solution Services

Opportunity Development and Project Manager, Australia & New Zealand – Intel Solution Services
Sydney Organising Committee for the Olympic Games | March 1997 to October 2000
Technology Manager, Ticketing – Sydney 2000
ISP – Internet Network Engineering and Systems Management | July 1995 to February 1997
Linkpro Internet – Sydney, Australia

The Internet Outsourcing Group – California, USA

TRUEnet – Caracas, Venezuela
Nueva Esparta University – Caracas, Venezuela | May 1994 to August 1995
Professor and Campus Network Coordinator and School of Computer Science & Technology Council
Rapidgrafix Corporation. Caracas, Venezuela | November 1991 to March 1993
Ashton-Tate Venezuela. Caracas, Venezuela | Jan 1990 to Nov 1991
Technical Support Manager (Northern Latin America Region)




There is no a business challenge and technical problem we can tackle and we won't rest until we find and implement the solution for you. Click for a Free Assessment on the state of your network and systems.




---
HOME | ABOUT US | SERVICES | SOLUTIONS | PARTNERS | SUPPORT | CONTACT US | CALL 8002-1283