Provided by Fusion Broadband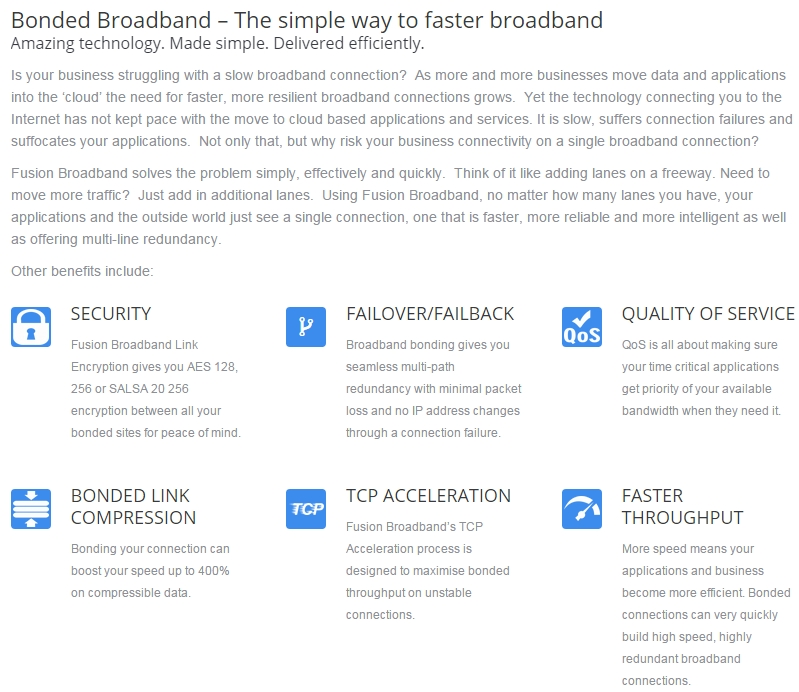 NBITS facilitates the entire ordering process by providing the ISP Facts-sheet describing the current ISP offerings with a comparison matrix and by outlining every step of the process. We will make the ordering process easy by managing the complete implementation project with transparency and tracking the progress on every step. The time it takes will depend on the actual office location, current cabling infrastructure and the selected ISP.
STEPS:
REVIEW ISP

availability, products and prices using NBITS ISP facts-sheet

SELECT ADSL

service to match existing usage quota

PLACE ADSL

order with the selected ISP over the phone

FOLLOW-UP

on the ADSL order with the ISP – time to install between 1 to 3 weeks

FILL + SUBMIT

Fusion Broadband order for (bonding)

ACTIVATION

by Fusion Broadband – time to activate between 2 to 3 days

HARDWARE

shipment and delivery – time to ship between 2 to 3 days
The installation time varies by ISP between 1 to 3 weeks; please refer to the ISP Facts-sheets for information. Once the ADSL has been commissioned the BONDING service activation and hardware delivery takes between 3 to 5 days depending on the shipment to the office location.
There is no up-front payment; the monthly billing directly from the ISP and Fusion Broadband to the nominated contact and address. Notice that the first monthly invoice from the ISP might include cabling / installations fees. Fusion Broadband first monthly invoice will include the hardware and activation fee.
NBITS will also assist further by dealing with the selected ISP by placing the order and following-up on the installation. You won't have to deal with their call centre and spend time on the phone. Simply fill out an on-line form and we will take care of the rest.
To book a free appointment to review your requirements and to answer any question just click here!!
---
HOME | ABOUT US | SERVICES | SOLUTIONS | PARTNERS | SUPPORT | CONTACT US | CALL 8002-1283